---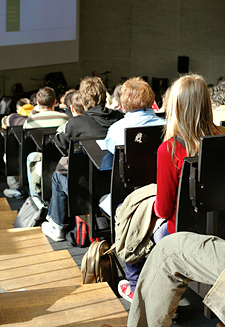 ---
---
---
Contact
Studienbüro Geo
Study Office Geo
Astrid Henke
Von-Seckendorff-Platz 4
06120 Halle (Saale)
---
---
Login for editors
---
Geo-Studies
Study Office
of the Institute of Geosciences and Geography
The study office is the first point of contact for students, prospective students and lecturers.
Please address your questions to the study office by e-mail or telephone. If you are already enrolled, please contact us using your university e-mail address (Studmail) and be sure to state your degree programme and matriculation number.
Contact
Astrid Henke M.A.
room H4 1.25
Von Seckendorff-Platz 4
06120 Halle (Saale)
phone: 0345 55 26 010
studienbuero@geo.uni-halle.de
Sprechzeiten:
Montag, Mittwoch, Donnerstag: 13-15 Uhr
Dienstag und Freitag nach Vereinbarung

Für ausführliche Beratungsgespräche vereinbaren Sie bitte einen konkreten Termin.
Conducting the consultation hours
The same regulations apply to office hours as to participation in courses.
Due to holidays and courses, there will be no study counselling in the following weeks:
08.-26.08.22
12.-23.09.22
17.-21.10.22
22.-23.11.22
During this time, please contact the respective subject advisor or the Examinations Office directly.
Note for new students in the 1st year (Bachelor and Master)
All first-semester students can register for information events for all GEO degree programmes in the "studIP". New information events will be announced and dates published here continuously until the end of the 2nd semester.
Distance exams
On 17.02.2021, the Senate passed a Distance Examination Regulation for the Martin Luther University Halle-Wittenberg, which applies to all module examinations with immediate effect. Please read the regulations for online examinations (supervised online examinations as a substitute for presence examinations) and online examinations (unsupervised examination formats, e.g. open book examinations or take home examinations).
The LLZ has compiled an overview of the online examination formats used at MLU.
Substitute benefits for internships
Students who cannot find a suitable internship within the standard period of study due to the far-reaching Corona measures can apply to the examination board responsible for them for approval of a substitute performance. The substitute performance must be equivalent in terms of workload and scope.
The application to the examination board must be comprehensibly justified. It must be evident that this is the last missing module performance. The applicant must prove that he/she has tried in vain to find a placement.
Students who wish to make use of this regulation submit an informal application to the responsible examination board chairperson. The application contains complete data on the name, matriculation number and degree programme as well as:
a current transcript of records
letters of application and refusals of the internships (scan)
Please send the application by email to the Office of Student Affairs. The application will be examined by the examination board and if the decision is positive, you will receive a substitute assignment.
---
---