REStrateGIS
Conception and development of a resource land register for smeltery heaps applying geoinformation technologies and new strategies for recycling of resources.
Project coordination
Fraunhofer UMSICHT
Cooperation Partners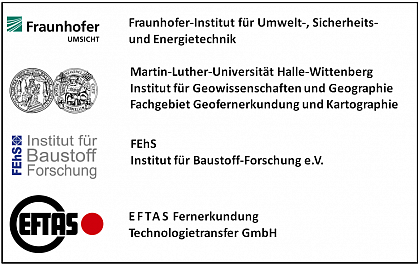 Projektkurzbeschreibung
Zur Minimierung der Importrisiken von Rohstoffen bildet die Exploration nicht genutzter anthropogener Lagerstätten wie Hüttenhalden einen wichtigen Baustein. Ziel des Verbundprojekts ist daher die Schließung der Datenlücken über Wertstoffpotenziale in Halden in Form eines bundesweiten GIS-gestützten Übersichts- sowie eines regionalen Ressourcenkatasters, mit denen sich das Wertstoffvorkommen in Hüttenhalden aufzeigen lässt. Hierzu werden innovative Labormethoden und Methoden der Geofernerkundung zur Detektion von Hüttenhalden und ihren Wertstoffen adaptiert und prototypisch angewandt. Des Weiteren werden basierend auf Laborversuchen Konzepte zur Rückgewinnung von Wertstoffen entwickelt, die in entsprechende Verwertungsstrategien einfließen.
Das von Fraunhofer UMSICHT koordinierte Verbundprojekt gliedert sich in fünf technisch-wissenschaftliche Arbeitspakete und ein übergreifendes Arbeitspaket zur Projektsteuerung und Ergebnisverbreitung, ergänzt durch Schnittstellenthemen zur Integration in das Minicluster. Die Arbeiten werden in einem inter- und transdisziplinären Ansatz von vier Partnern (Universität Halle-Wittenberg, EFTAS, FEhS e.V. und UMSICHT) durchgeführt und vom Project Advisory Board (PAB) mit Vertretern aus Industrie, Politik, und Wissenschaft begleitet. Es erfolgt eine innovative Kombination von Geoinformations- und Fernerkundungstechnologien zur Detektion von Wertstoffen und die Konzeption von Labormethoden zur Rückgewinnungen von Wertstoffen.
Project duration
01.08.2012 - 31.07.2015
Funding

Förderung von REStrateGIS
Weblinks
Project Team at the MLU Halle
Brief Description
The research group at the Martin Luther University Halle-Wittenberg focuses on the qualitative and quantitative analysis of different spoil heaps using both point-based reflectance spectroscopic measurements and imaging spectroscopy. The aim of the study is the assessment of the suitability of spectroscopic methods for the analysis of the potential of rare and economically important metals in spoil heaps, and as such has benefit to society. The research is carried out as a multi sensor and multi-scalar concept and will investigate the transferability of spectroscopic point measurements to the pixel-based imaging systems. Thus, besides the spectral analysis of the heap material, special focus is given to up-scaling effects that can be observed between different sensors.
---
---