MENVIPRO - Modernization of Environment Protection Studies Programmes for Armenia and Georgia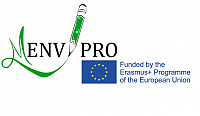 Project overview
The overall objective of the project is to significantly improve the quality of MSc. studies in the field of Environment Protection in Armenia and Georgia on the basis of complex modernization of the curricula in line with the Bologna principles, Salzburg principles of EAU and best European practice.
The curricula development will be firmly based on the analysis of the best practice obtained in Europe, target countries and beyond, and incorporate the latest innovations in educational technologies. The focus will be on close relations between postgraduate studies and research activities in order to equip the graduates with cutting-edge knowledge and practical skills. University-society-industry links will play also a key role to guarantee high employability of graduates.
In order to radically modernize the MSc. education in EP - technology-intensive domain of knowledge, the project will establish a unique inter-University education and research facility, which will be used for student projects, collaborative projects with external stakeholders and demonstration activities to reinforce links to the University environment and promote environment-friendly mindsets.
The project consortium combines credible partners with diverse and mutually complementary expertise from the region of South Caucasus, as well as Italy, Portugal and Germany.
Cooperation partners
Work Packages
Contact
---
---