MENVIPRO - Modernization of Environment Protection Studies Programmes for Armenia and Georgia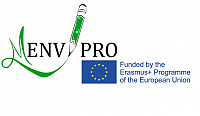 Call: Key Action 2: Cooperation for innovation and the exchange of good practices Erasmus+ Capacity Building in Higher Education Call 2018 EAC/A05/2017 – Selection Year 2018
Project start: 15.11.2018
Project runtime: 36 Monate
Homepage: https://www.menvipro.eu/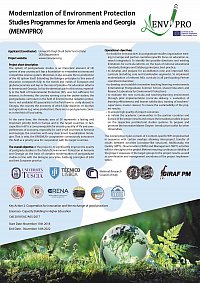 Poster_A3_Menvipro.pdf (17.9 MB) vom 16.06.2021
Project overview
The overall objective of the project is to significantly improve the quality of MSc. studies in the field of Environment Protection in Armenia and Georgia on the basis of complex modernization of the curricula in line with the Bologna principles, Salzburg principles of EAU and best European practice.
The curricula development will be firmly based on the analysis of the best practice obtained in Europe, target countries and beyond, and incorporate the latest innovations in educational technologies. The focus will be on close relations between postgraduate studies and research activities in order to equip the graduates with cutting-edge knowledge and practical skills. University-society-industry links will play also a key role to guarantee high employability of graduates.
In order to radically modernize the MSc. education in EP - technology-intensive domain of knowledge, the project will establish a unique inter-University education and research facility, which will be used for student projects, collaborative projects with external stakeholders and demonstration activities to reinforce links to the University environment and promote environment-friendly mindsets.
The project consortium combines credible partners with diverse and mutually complementary expertise from the region of South Caucasus, as well as Italy, Portugal and Germany.
Cooperation partners
Work Packages
MENVIPRO comprises the following 7 work packages (WP):
WP1: Preparation – Analysis of the nowadays state of Environmental Protection educational programs in Armenia's and Georgia's HEI's with special attention to the local and international environmental regulations, as well as requiremen
ts for the potential workforce. Development of study program modernization and adaptation plan with the same teaching time schedule and content for Armenia and Georgia HEI's which will also ensure the competence of students passing from one degree (MS) to another (PhD).
WP2: Mobility – Familiarization with the teaching processes in Environmental Protection study programs in EU HEI's. Examination the possibilities and peculiarities of living lab incorporation into the new study program plan.
WP3: Process of curriculums development and modernization in the following topics:
Environmental geochemistry,
Environmental radiation protection,
Environmental monitoring and measurement devices,
Environmental statistics,
Geoecological cartography/mapping,
Spatial data infrastructure and management,
Landscape planning,
Applied remote sensing technologies,
Environmental research logistic,
Urban ecology,
Ecotoxicology,
Environmental impact assessment, environmental audit & environmental standards,
Analytical provision of environmental protection activity
Water quality management
WP4: Laboratory capacity building – Conceptual logistic and physical development of living lab. Implementation of living lab principles in Armenia's and Georgia's HEI's.
WP5: Pilot teaching and evaluation.
WP6: Dissemination – creation of project website, communication with media and stakeholders, organization of workshops, final international conference in Yerevan, publication of textbooks, manuals etc.
WP7: Management.
Contact
Dr. Michael Denk
Phone: +49 345 / 55 - 26021
Institute of Geosciences and Geography
Martin Luther University Halle-Wittenberg
06099 Halle (Saale)
Germany
---
---