Research Projects
RENATUR: Improving regional policies to better protect the natural heritage of peri-urban open spaces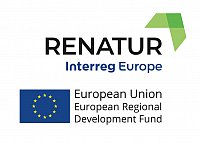 Peri-urban landscapes are located at peripheral locations of cities, often beyond their administrative boundaries. Build-up areas, such as new housing estates, leisure and industrial areas, communal infrastructure as well as valuable peri-urban open spaces, such as green spaces, brownfields or agricultural fields, can also be found here.
Due to increasing urbanisation and investments beyond the city boundaries, these peri-urban open spaces are decreasing. With the decrease, the natural heritage of these open spaces and thus biodiversity, climate and air quality regulation as well as recreation services are lost.
The aim of RENATUR project is to draw attention to the importance of peri-urban open spaces and their natural heritage in order to preserve it. For this purpose, model regions were selected, which have a great interest in the promotion and protection of the natural heritage of the peri-urban open spaces in planning practice.
Partnership
Martin Luther University Halle-Wittenberg (Germany),
Flemish Land Agency (Belgium)
BSC, Business support centre, Ltd., Kranj (Slovakia)
Hajdú-Bihar County Government (Hungary)
Ministry for Regional Development and Transport of Saxony-Anhalt (Germany)
University of the Basque Country (Spain)
Mazovia Development Agency Plc (Poland)
Project duration: 01 August 2019 to 31 July 2023

---
URGENT: Urban Resilience and Adaptation for India and Mongolia:
curricula, capacity, ICT and stakeholder collaboration to support green and blue infrastructure and nature-based solutions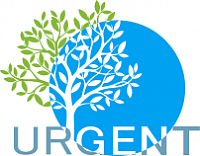 URGENT aims to promote green and blue infrastructure and nature-based solutions (GBI & NBS) for resilient, climate-friendly and liveable cities in India and Mongolia (partner countries – PCs) through ICT-enhanced tertiary education linked to labour markets and wider stakeholder circles. This overarching goal will be achieved through the following objectives:
To upgrade GBI & NBS relevant BSc, MSc and PhD programs at Partner Institutions to make them end-user-oriented and policy-relevant. A pool of URGENT e-courses will be tailored to fit educational needs of learners from science, engineering and planning (154 ECTS of new and updated subjects openly available via e-learning). An URGENT research framework will outline internationally and policy relevant research topics, questions and methodology suggestions.
To develop an URGENT Collaborative Learning Platform and online training services of the new generation for qualitative improvement of the education process and academic workflow support among universities and stakeholders (URBAN_learn).
To create sustainable feedback mechanisms to end-users, ensuring adaptive and practice-relevant teaching contents, knowledge co-production opportunities and stakeholder support to post-project course development & teaching. URGENT stakeholder interactive platforms (SIPs) in PCs will assemble representatives of practice-oriented communities involved in GBI and NBS issues. SIPs will be platforms for academia to disseminate innovative ideas, visions of the future and inform evidence-based management, while practice partners contribute with their experiences, review curricula, participate QA mechanisms & support graduates' entry to workplace.
To develop capacity for academic mobility, shared experimental facilities and joint research by PIs and beyond. URGENT partners will institutionalise their relationship through framework agreements, and set-up rules for physical & virtual mobility, joint research & thesis supervision and common use of research & experimental facilities.
Duration: 15 November 2020 – 14 November 2023
Funding: Erasmus+ Programme for Capacity Building in the Field of Higher Education Action
---
ECU-MAES: A National Ecosystem Services Assessment and Mapping for the status and future development of ecosystem services and biodiversity – a fast track study in Ecuador

Ecuador is rich in biodiversity and endemic species. In contrast, high rates of forest decline and fragmentation were reported the last 30 years. Currently, just sporadic empirical studies on biological conservation exist which only give scattered insights into ongoing losses of biodiversity and ecosystem services in Ecuador.
The project goal is to conduct a joint mapping and assessment of the capacities of ecosystems that provide regulating, provisioning and cultural services as a fast track study to initiate ecosystem services assessments on national level and to deepening joint research activities on biodiversity and ecosystem services losses, their impacts and costs for Ecuador. The lokal cooperation partner is the Universidad Regional Amazónica (IKIAM).
The project is funded by the German Academic Exchange Service (DAAD) from funds of the German Society for International Cooperation (GIZ) GmbH on behalf of the Federal Ministry for Economic Cooperation and Development (BMZ).
Project duration: 01 October2019 to 30 June 2021
---
PLEASE-SES: Implementing Landscape Ecology for Improved Sustainability and Societal Equity of Social-Ecological Systems in Sub-Saharan Africa
Our motivation is to provide training for competences to young African scientists and partner them with young German scientists for enhancing their capacities to contribute toward a more sustainable development and build respective networks of knowledge in landscape ecology to later on integrate this in their careers and in their services to society. With our workshop series, we will address three critical thematic blocks: (a) fundamental knowledge on landscape ecological principles, social-ecological systems functioning, modelling and impact assessment (summer school 1 in 2020), (b) cities and urban development and how landscape ecological principles can contribute to their sustainable development (summer school 2 in 2021) and (3) principles of ecological governance as a key concept to enhance the sustainable development of societies based upon the joint development of bottom-up (community-based), regulatory and financial instruments.
This project is funded by Volkswagen Foundation of the programme "Knowledge for Tomorrow – Cooperative Research Projects in Sub-Saharan Africa".
Project duration: 01 July 2020 to 30 June 2022
---
---
Completed Projects
INLAND: Innovative sustainable environmental planning for peri-urban landscapes

Funding program: Integration of the Central, Eastern and South Eastern European Region in the European Research Area (Bridge2ERA)
Overall objective of the project:
So far, political instruments have only poorly addressed the development of peri-urban landscapes (PULs), resulting in informal settlements and the degradation of natural ecosystems. Finally, PULs lose biodiversity and ecosystem services (ESR). Many regions in central and eastern European countries are affected by unsustainable urbanization.
INLAND aims to: (i) strengthen research and innovation in Central and Eastern European countries; (ii) link science with political and other societal actors; and (iii) integrate them into European research programs so that they can expand their research and innovation potential. INLAND addresses the following questions:
How should the PUL be defined and delineated?
Who are the planning actors and stakeholders in PUL and how can they be reached and involved?
What are the planning approaches for a sustainable development of PUL?
What types of socio-cultural factors influence the success or failure of planning approaches for PUL?
Project duration 01. May 2019 to 31. October 2020
---


---
---