Projektstudium
winter term 2018/2019 and summer term 2019
Bukhara Oasis - trading center at the ancient Silk Road and center of
cotton production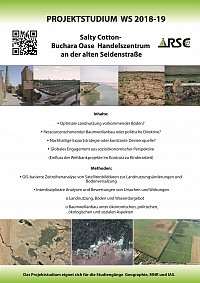 winter term 2017/2018 and summer term 2018
potentially invasive plant species in the area of Halle city -
Greater biodiversity or danger to the native flora?
Alien plant species can contribute to the biodiversity of a region by providing habitat (niches) and nutritional basis for a variety of organisms. However, they can also cause immense economic and environmental damage and impairment. In Germany there are currently about 1,000 alien vascular plants unstable, of which 400 are established and about 40 are considered invasive. The invasiveness of alien species and the importance of import and dispersal vectors vary widely. For an efficient use of resources to defend against and eliminate these species, the knowledge about the respective potential risks of alien species and about the responsible import vectors is an essential prerequisite for the preservation of biological diversity. The aim of the project study is the analysis and evaluation of alien plant species in the Dölauer Heide. Based on selected plant species, the assessment of the current and historical distribution of the species in connection with the change of the land use shall be investigated. Furthermore, the identification of the import vectors is a focal point in the project.
Here, different methods and approaches are used. From mapping in the field, interpreting orthophotos from past decades, to remote sensing and GIS-based analysis of UAV and satellite imagery.
Wintersemester 2015/2016 & Sommersemester 2016
Hochwasserkonzept der Stadt Halle
Das Projektstudium steht in direktem Zusammenhang mit einer hochaktuellen Thematik der Stadt Halle, dem Wassertourismus-Konzept.
(http://www.halle.de/de/Verwaltung/Stadtentwicklung/Freiraumplanung/Wassertourismuskonzept/ )
Wir wollen ergänzend zu diesem Entwurf zu verschiedenen Aspekten des Konzeptes weiterführende Informationen sammeln, aufbereiten, interpretieren und mittels moderner GIS- und Visualisierungstechnologien webbasiert umsetzen. Die konkrete Zieldefinition ist bereits Bestandteil dieses Projektstudiums. Inhaltlich kann das Konzept um folgende Themen erweitert werden:
• Rekonstruktion der Entwicklung der Saale im Stadtgebiet aus historischen Karten
• Rekonstruktion der alten Mühlen und historischer Hochwasserstände
• Aktuelle Naturschutzgebieteund geologisch interessante Bereiche der Saaleaue
• Information zu weiteren Sportaktivitäten, Denkmalen, Museen in der Nähe der Saaleaue
• Andere Ideen?
Das Projektstudium wird vom Bereich Stadtplanung der Stadt Halle unterstützt. Wir werden vor Ort die Planungs- und rechtlichen Grundlagen der Entwicklung eines solchen Konzeptes vorgestellt bekommen und können während des Projektstudiums die weitere Entwicklung des Konzeptes sowie die Abstimmung durch den Stadtrat begleitend mitverfolgen.
Das Projektstudium bietet ideale Voraussetzungen, Ihre bisher erworbenen Kenntnisse aus den verschiedenen Bereichen der Geographie anzuwenden,
---
---