GIS-Projektmanagement
winter term 2017/2018
Mining landscapes in the Mansfelder Land yesterday - today - tomorrow
Copper shale mining has played an important role in the Mansfelder Land since the year 1200 until the end of the 1960s. During this long time, the landscape in Mansfelder Land was greatly changed and shaped by various processes. Dumps of different ages, shapes and sizes represent relics of the mining activities in the Mansfelder Mulde. The mining-historical chronology of heap formation is in the focus of the event and the distribution of different dump types will be investigated and presented with the help of contemporary interactive 3D / 4D visualizations.
These analyzes are based on a variety of datasets and models, which focus on the handling of heterogeneous (geo) data (laser scanner DGM, WorldView-DGM, radar DTM, multispectral satellite image data of different resolutions, historical and current geobasis and geo-specialist data, etc.) as part of project management. Basic and advanced techniques of project management and geoinformation processing form the technical focus. Based on detailed information in the literature, these are prepared and visualized using current tools of geoinformation processing. Literature, material and geodata research are just as important aspects as project management and spatial data visualization. All these aspects are linked together and form the basis for the creation of an information platform for the "dump landscape" in Mansfelder Land. This will inform about the history of the region, current developments and future plans, including the tourist development of the region from the perspective of the mining landscape.
Wintersemester 2013/2014 - 2016/2017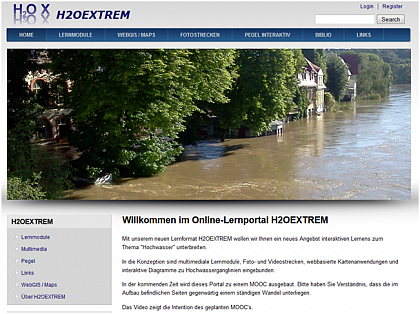 Einleitung
Lehr- und Lernziele / Lerninhalte
1. Motivation - Warum und wofür bedarf es einer Verarbeitung raumbezogener Informationen in Informationssystemen?
Lernmodule zur Entstehung und Ausprägung
Hochwasserklassifikation auf der Basis von FE-Daten
Digitale und interaktive Karten zum Thema Hochwasser unter Berücksichtigung von Hochwasserkennwerten
Interaktive Pegelvisualisierungen zur Kennzeichnung der zeitlichen Auflösung von Hochwasser
2. GIS- Projektmanagement
Theorie:

GIS- und WebGIS-Grundlagen
Vor- und Nachteile von WebGIS versus DesktopGIS
Wie werden GIS- Projekte geplant und umgesetzt? Welche Technologien und Methoden werden eingesetzt (Fokus Open Source) ?
Aufbau standardisierter servicebasierter Architekturen auf der Basis von Geoinformationen (OGC, ISO-Standards zur Gewährleistung der Interoperabilität
Schnittstellen zu externen Geodatenportalen (INSPIRE, GDI Deutschland, Geofachdatenserver Sachseb-Anhalt, Pegel-Online)
Einbindung von WMS, WFS, WCS in eigene GIS-Projekte
Konzeption: Planung der Projektphasen (EVAP-Modell als Leitlinie)
Praxis: Umsetzung eines Desktop GIS- Projektes zur Klassifikation von Hochwasserkennwerten und zur Ausprägung von Hochwasser im Mitteldeutschen Raum (Saale, Mulde) mit anschließender Überführung in ein webbasiertes Geographisches Informationssystem innerhalb des freien CMS Drupal
Praxis:
Umsetzung der Thematik in Blöcken (je nach Qualifikation bzw. Voraussetzungen, die Sie aus Ihren Studiengängen in die LV einbringen können
Weiterentwicklung von H2OEXTREM unter Vernetzung und Weiterentwicklung bestehender dienstebasierter Integrationslösungen:

Grundlagen der Kartendarstellung, Geodätische Grundlagen
Datengrundlagen und Vorverarbeitung in GIS, Georeferenzierung
Vom proprietären Desktop-GIS zum WebGIS (ArcGIS, Mappetizer, MySQL, PostgreSQL/PostGIS, Geoserver, Open Layers, Drupal)
ISO-Normen, Metadatenstandards für Geodaten
"GIS H2OEXTREM" als Datenbank-gestützte Desktop-GIS und Web-GIS Applikation
Lernergebnis
Leistungsnachweis
Projektbericht 5 LP mit mündlicher Verteidigung des Projektes
Link zum Modulhandbuch, S. 40
---
---