Department of Remote Sensing and Cartography
The focus of the research on earth observation is the evaluation of hyper- and multispectral remote sensing data for the monitoring of landscape processes in terrestrial systems of different regions of the world as well as the quantification and regionalization of parameters of the geo- bio- and hydrosphere. Here the latest geo-information technologies and the scientific visualizations are applied and further developed in a technical context.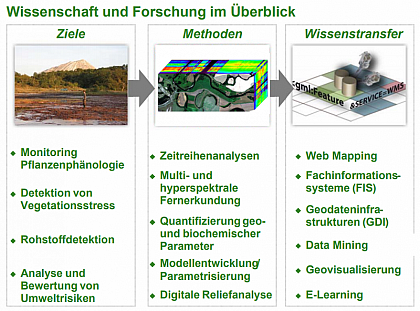 flyer Department of Remote Sensing and Cartography
Download Flyer Department Remote Sensing and Cartography
geofern_flyer.pdf (115.6 KB) vom 15.12.2014
Contact
Frau Prof. Dr. C. Gläßer
Fachgebiet Geofernerkundung und Thematische Kartographie
Institut für Geowissenschaften und Geographie
Martin-Luther-Universität Halle-Wittenberg
room H4 2.25
Von-Seckendorff-Platz 4
06120 Halle
How to reach us
phone: 0345/55-26020
fax: 0345/55-27168
cornelia.glaesser@geo.uni-halle.de
In der vorlesungsfreien Zeit finden Sprechzeiten nach Vereinbarung statt.
postal address:
Frau Prof. Dr. C. Gläßer
FG Geofernerkundung & Thematische Kartographie
Institut für Geowissenschaften und Geographie
Martin-Luther-Universität Halle-Wittenberg
06099 Halle (Saale)
---
Ms. Heike Barthel
Office
Department of Remote Sensing and Cartography
Institute of Geosciences and Geography
Martin-Luther-University Halle-Wittenberg
Room H4 2.26
phone: +49 (0)345/55-26041
fax: +49 (0)345/55-27168
e-mail: heike.barthel@geo.uni-halle.de
---
---
---