Christian Dette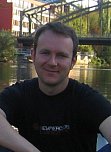 Vita
Studies
10/1998-03/2006: Studied geography,

geology and botany

at the Martin-Luther-University of Halle

Titel of the diploma thesis:

"Methoden der Verarbeitung historischer und topographischer Kartenwerke für eine rechnergestützte multitemporale Analyse und Visualisierung der Fläachennutzungsentwicklung der Stadt Halle (Saale)"
Scholarship
since 2006: postgraduat scholarship of the State of Saxony-Anhalt

Topic of the PhD thesis:

"The influence of dimension, abstraction level, and map orientation on perception and generic processes of cartographic products"
Projects
2004-2005: Creation of a hybrid satellite image map for the exibition: "WandelHalle – Stadt als Ansichtssache" on the occassion of the 1200th anniversary of Halle (Saale)
2005: Creation of a web based information system for the 1200th anniversary of Halle (Saale)
2009-2010: Historic-cartographic analysis of the development of the Saline-Insel in Halle (Saale) as part of the International Building Exibition 2010
since 2010: Developement of a Campus Information System for the public relations of the MLU
Research interests
Geovisualisation and computer cartography
Development of guidelines
Cartographic representation parameters
Empirical studies of cartographic products
Generation of vitual landscape models and realtime scenarios
Web-mapping applications
Publications
DETTE, C., SCHULZE, M., GLÄßER, C. (2010): Rückblick, Einblick, Ausblick – Die Geschichte der Saline-Insel in Halle (Saale) - Eine mehrdimensionale kartographische Analyse im Rahmen der Internationalen Bauausstellung 2010. In: Kartographische Nachrichten 5/2010, S.244-251
GLÄßER, C., THÜRKOW, D., DETTE, C. & S. SCHEUER (2009): Development of an integrated technical-methodical approach to viusalsise hydrological processes in an exemplary post-mining area in Central Germany.- Photogrammetry and Remote Sensing.
2007: Beitrag im Springer Online-Wissensmagazin: DETTE, C.: Stadtentwicklung im Zeitraffer. http://www.scinexx.de

DETTE, C., THÜRKOW, D. u. C. GLÄßER (2006): Die Entwicklung des Grundrisses von Halle (Saale) in den vergangenen 200 Jahren – Möglichkeiten der Rekonstruktion aus historischen topographischen Kartenwerken und deren interaktive
Präsentation. In: "Kartographische Schriften" Band 10,
Kirschbaum Verlag, Potsdam.
Contact
Dipl. Geogr. Christian Dette
Institut für Geowissenschaften und Geographie
Martin-Luther-Universität Halle-Wittenberg
room H4 R4.24
Von-Seckendorff-Platz 4
06120 Halle (Saale)
How to reach us
phone: 0345 / 55 - 26025
fax: 0345 / 5527228
christian.dette@geo.uni-halle.de
postal address:
Dipl. Geogr. Christian Dette
Institut für Geowissenschaften und Geographie
Martin-Luther-Universität Halle-Wittenberg
06099 Halle (Saale)
---
---